Photos by: Monique & Brittany Spaulding
Report by: Quinton Spaulding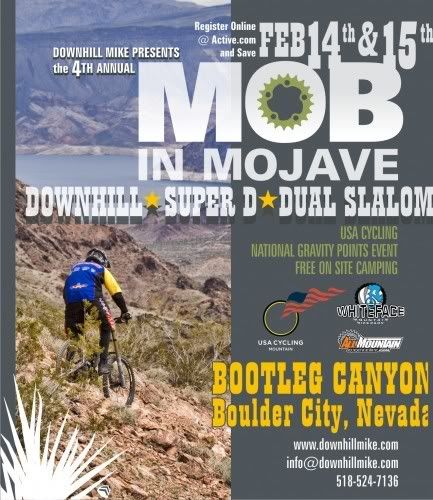 The "infamous" Bootleg Canyon is very well known for bike testing, training camps, magazine photo-shoots and it is best known for the tens of thousands of people that assemble there every year to attend "Interbike" (which is the largest bicycle trade show in North America as well as one of the most important events on the global cycling business calendar).  USA Cycling has finally added it to their National Gravity Calender in the form of the "4th Annual MOB IN MOJAVE", and I am pleased to say it was a huge success!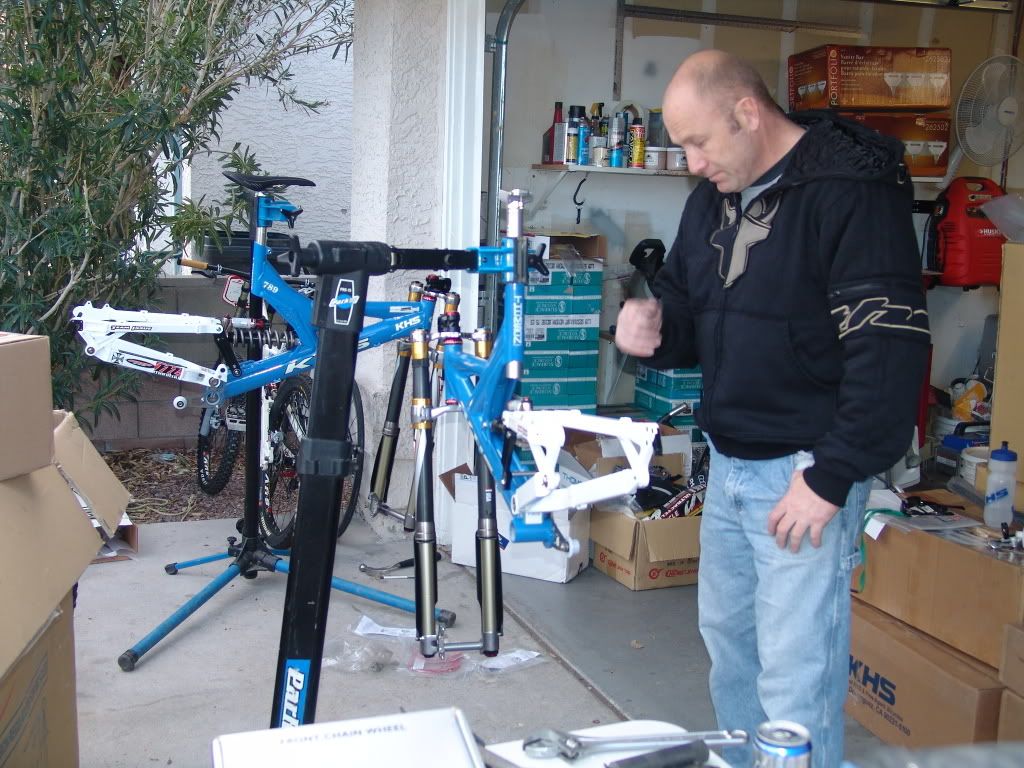 Our Teams Factory Bikes are almost complete!! We still have a couple of the World Champs 4X bikes to get done and then we will be set for the 2009 season!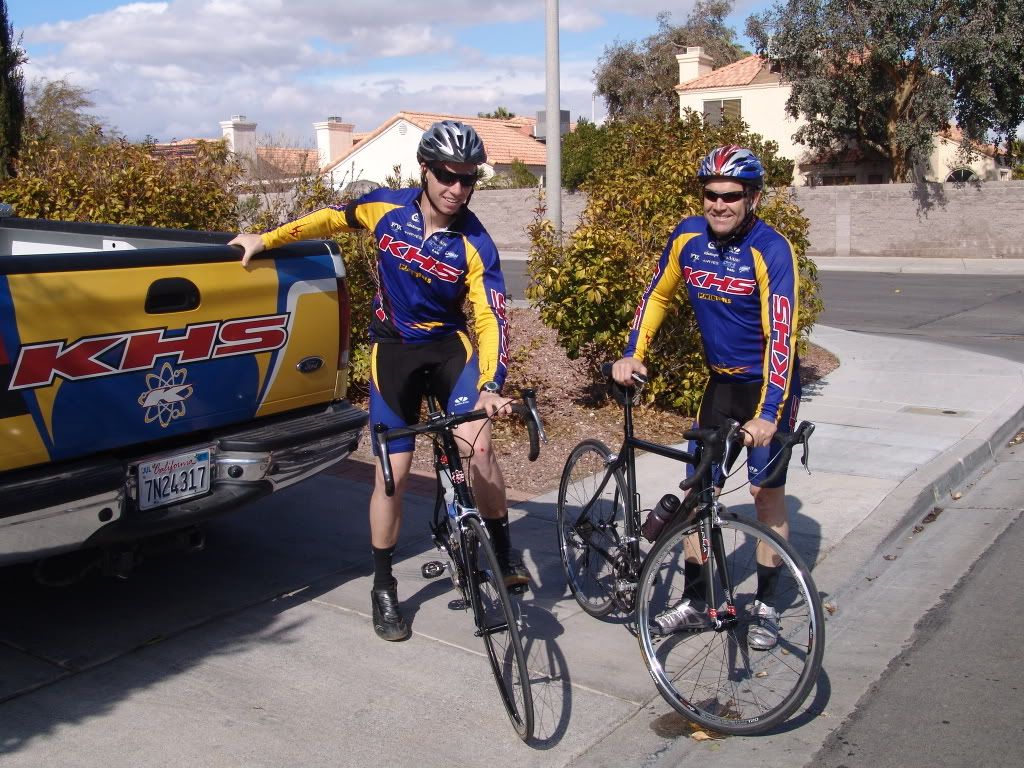 Binggeli and myself crammed in some mid-week road training in Vegas in our continued preparation for the MOB IN MOJAVE.

We hammered out a short road loop before getting back to building our DH rigs.

Packing up the trailer is always a case of crossing off a checklist of items and if we are not prepared correctly, EVERYBODY looks at the guy that packed the trailer … guess who that would be?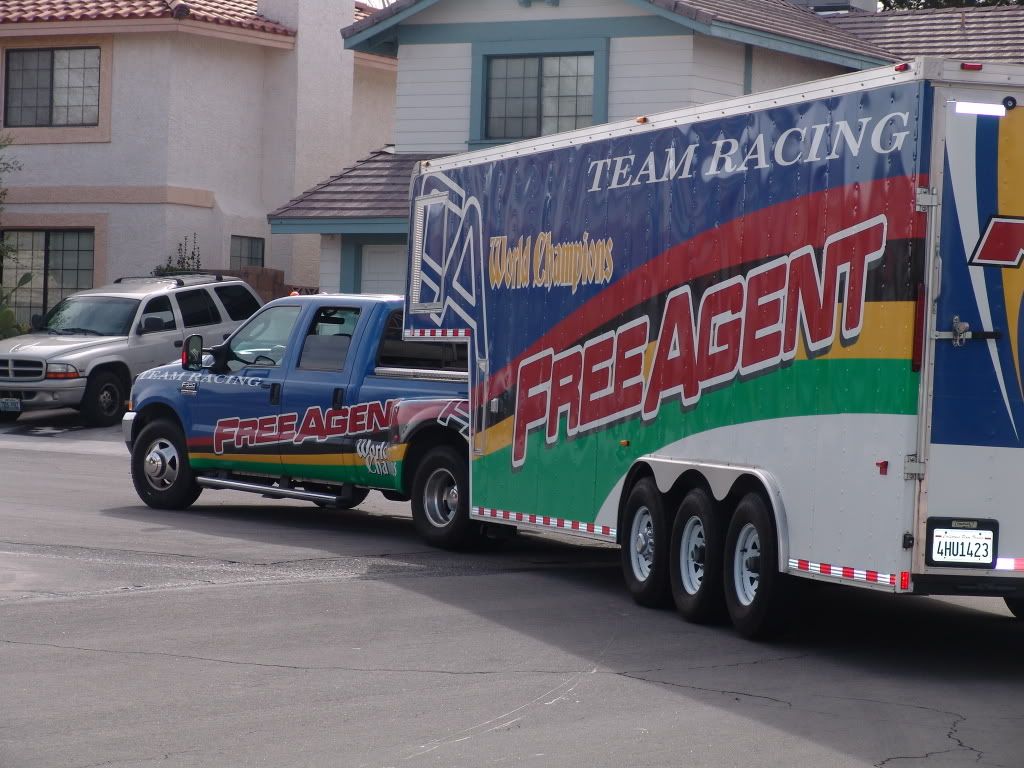 Heading  to Bootleg Canyon early Thursday morning to ensure a good pit spot (as always), as well as plenty of practice runs.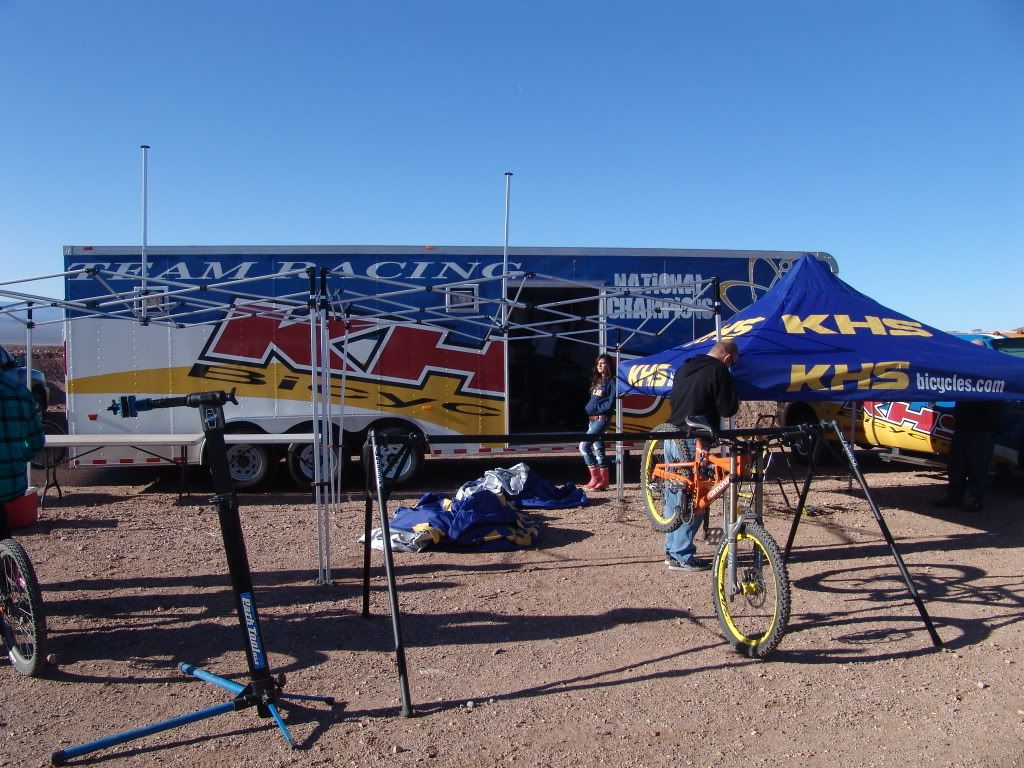 The weather was great all morning, but got really cold and windy  as the day progressed.

We got ourselves comfortably situated then it was straight back to dialing in the bikes.  It is still amazing to me even after building them year-in-and-year-out, just how much time it can take to completely build a factory race bike…it is still a very complex task.

Bootleg Canyon has a huge gravel pit in very close proximity to the Mountain Bike Park. As you can see, I rolled this tractor tire up this enormous pile of clean dirt to these kids like a bowling ball( the working out is paying off).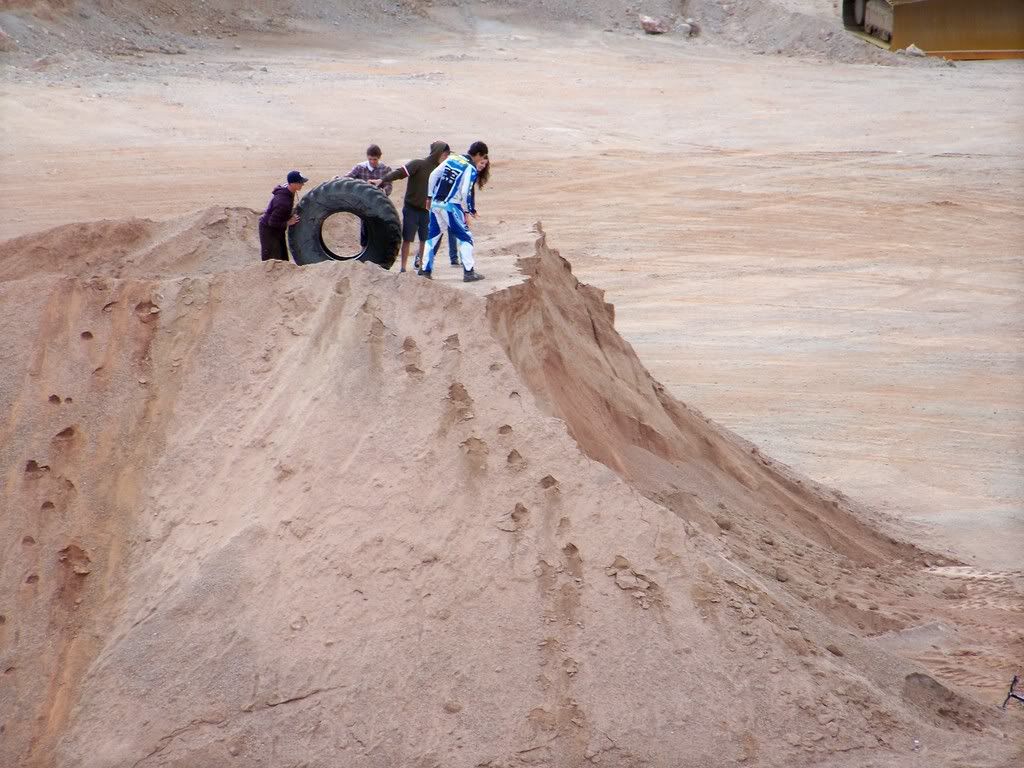 However, once it reached the top, they were somewhat confused about what to do with it!

Saturday's schedule brought out the Dual Slalom and Super D events. Logan Binggeli (seen in this photo) put in a very good first National effort and finished 4th overall in the Pro Slalom. This is the first Slalom event to be held at Bootleg Canyon in years, and the track raced extremely well.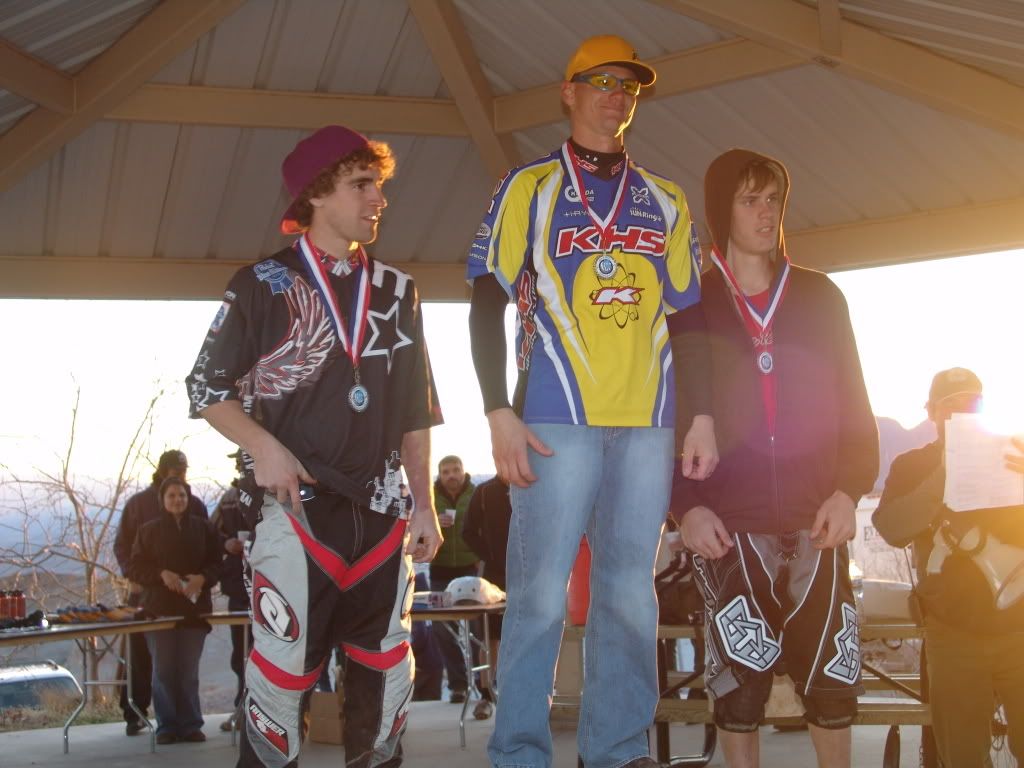 "KHS B-Team" rider and Super D ANIMAL, Scott Johnson took the win in the Super D. Not only did he win his class, he also ran the fastest overall time in this event held on Saturday, which was Huge for KHS.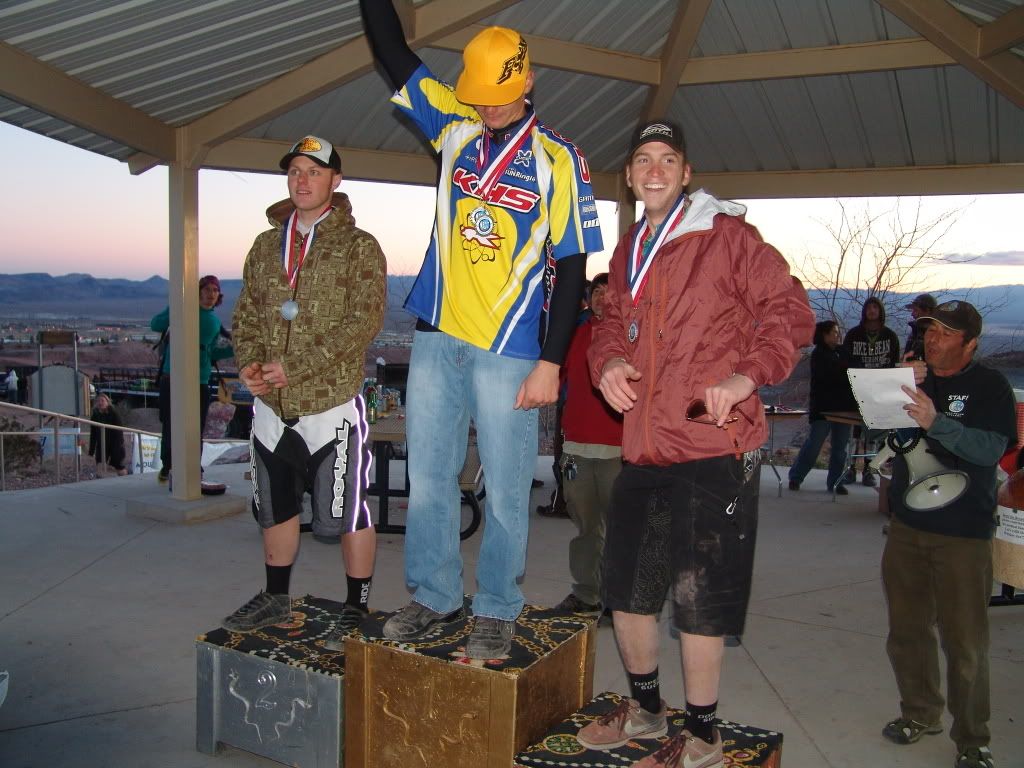 Johnson then went on to take top honors in the Cat 1 Dual Slalom too – Well Done Scott!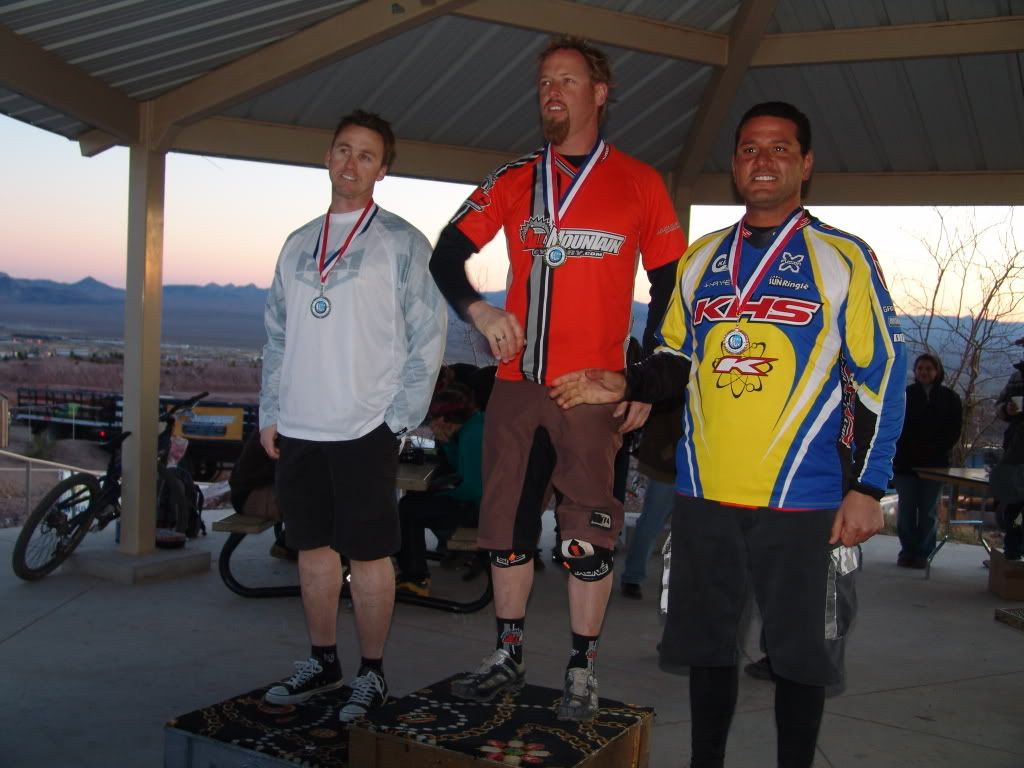 "KHS B-Team" rider Justin Aliperti on the podium.

Practice was CRAZY Saturday, these lines and shuttle trucks were packed to capacity throughout the entire weekend. This I believe can be attributed to the success of the Mountain Bike Park.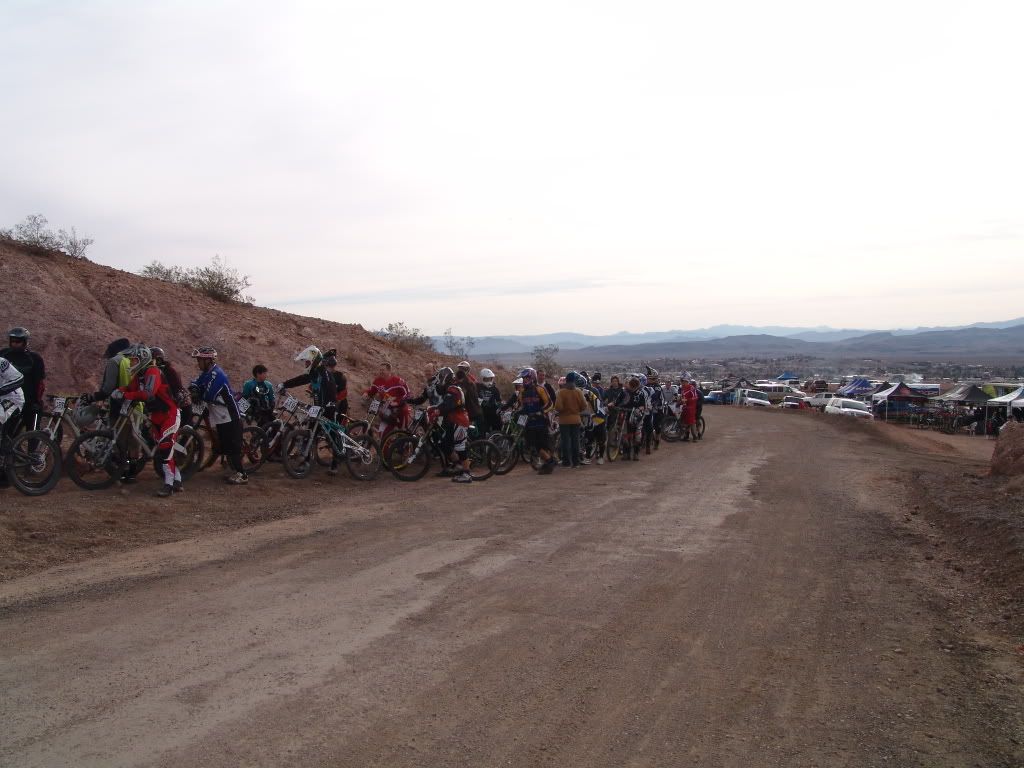 Sunday mornings lines were even longer, everybody wanted to get in just a little more practice before it was time to put down the final run.

Even though the shuttles were always full, they were efficient and very rider friendly.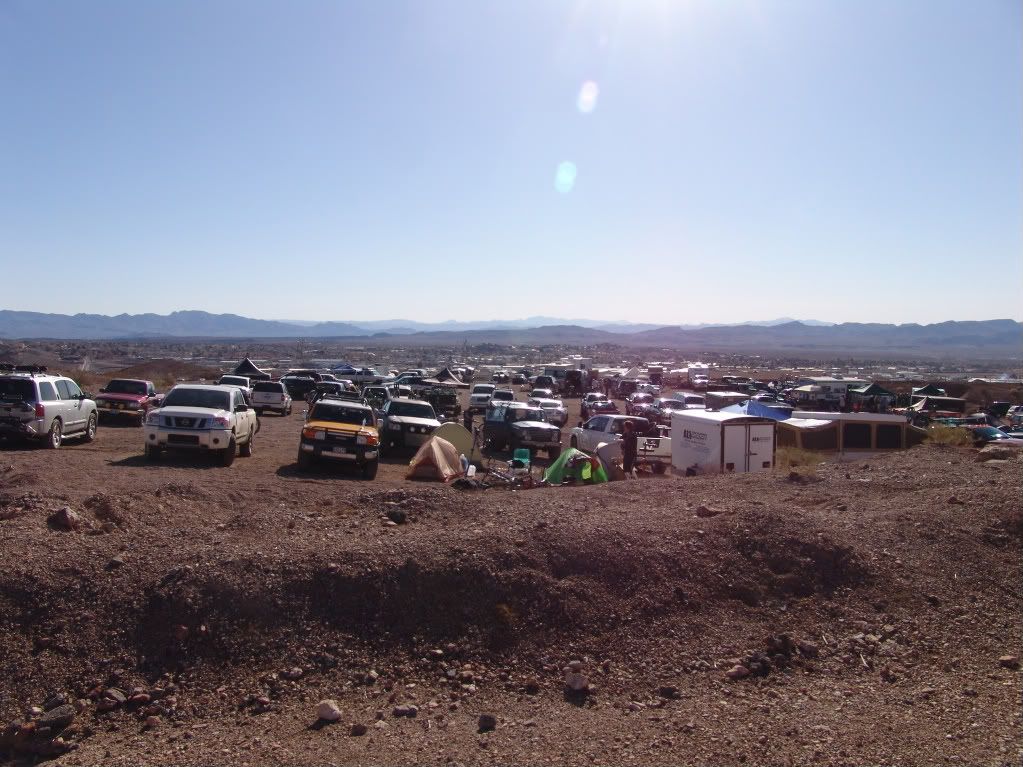 All three levels of parking were crammed full with racers, enthusiasts and spectators alike.

Here is someone getting a huge thrill on one of the 6 new "Zip Lines" that were constructed last summer at Bootleg Canyon. They have grown in popularity over the last few months and are starting to see many tourists signing up for their local "Zip Line" tours!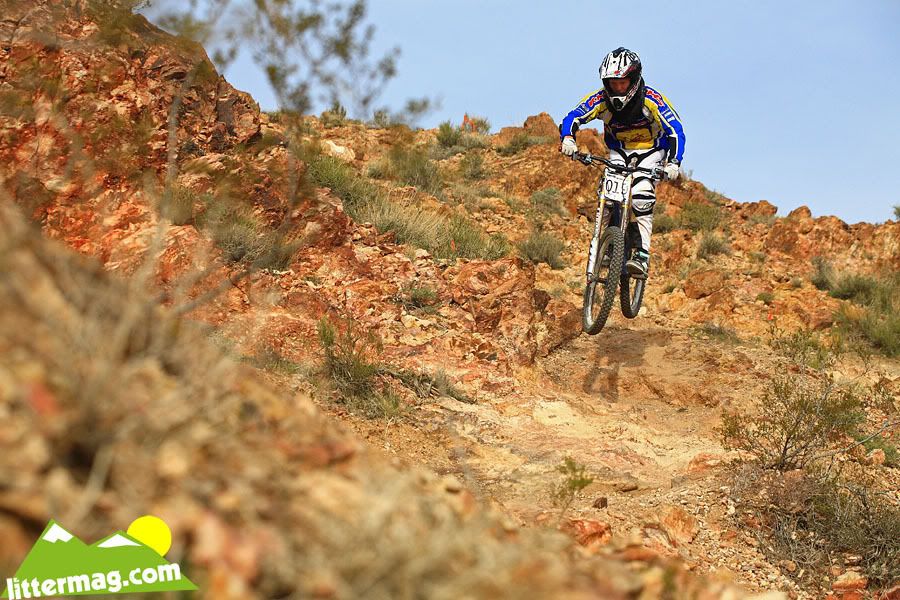 Logan Binggeli attack position…
Photo and words courtesy of: www.littermag.com
Bootleg Canyons trails are very exposed, technical and fast. They leave very little room for error, and to be able to perform well  under race pressure can prove to be somewhat unnerving. Binggeli getting some DH practice Saturday afternoon.

Binggeli during his Final run on Sunday morning. He posted an extremely fast time, only just short of a podium spot, but consistent and without injury. Binggeli finished 7th,  (7th has been his spot over the last few races).  Binggeli say's "not next time, next time I have to do better than 7th!"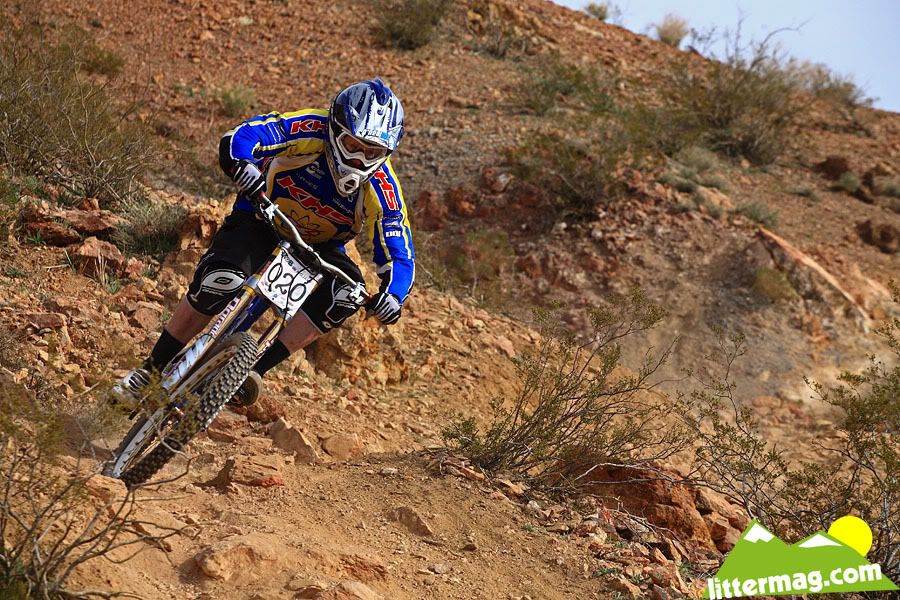 Quinton Spaulding, local freight train pinner. He could probably get a better time at Bootleg than most people with his eyes closed.
Photo and words courtesy of: www.littermag.com
I felt really good in all my practice runs, and in a field of 60 Pro Men I knew it would take a flawless run to be on the podium.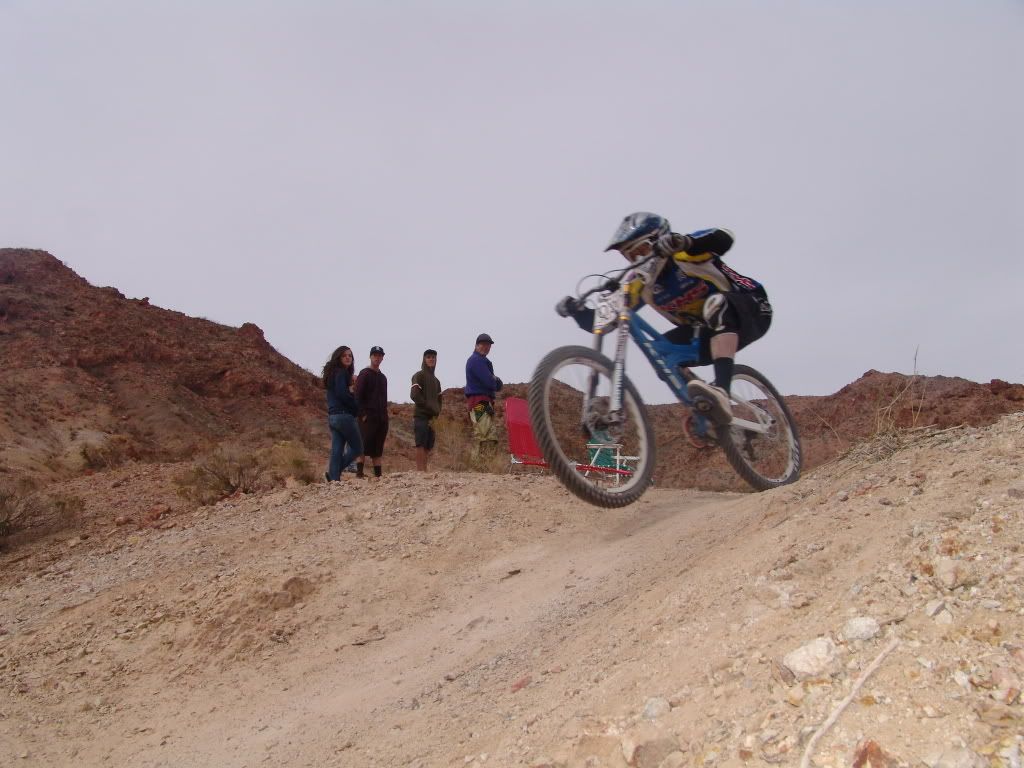 During my race run I had one small bobble, and that was the difference that kept me out of the top ten, I came as close as ever though, with an 11th place finish, and was pleased with my performance and really happy to beat some very well known names in the World of Downhill Mountain Biking.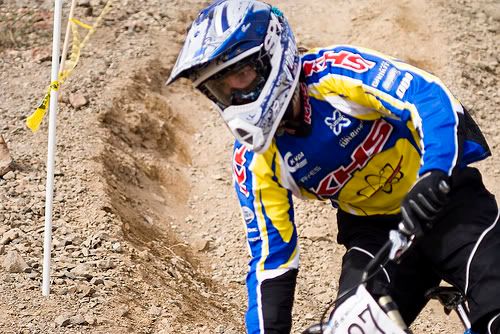 Photo courtesy of: www. channelmtb.com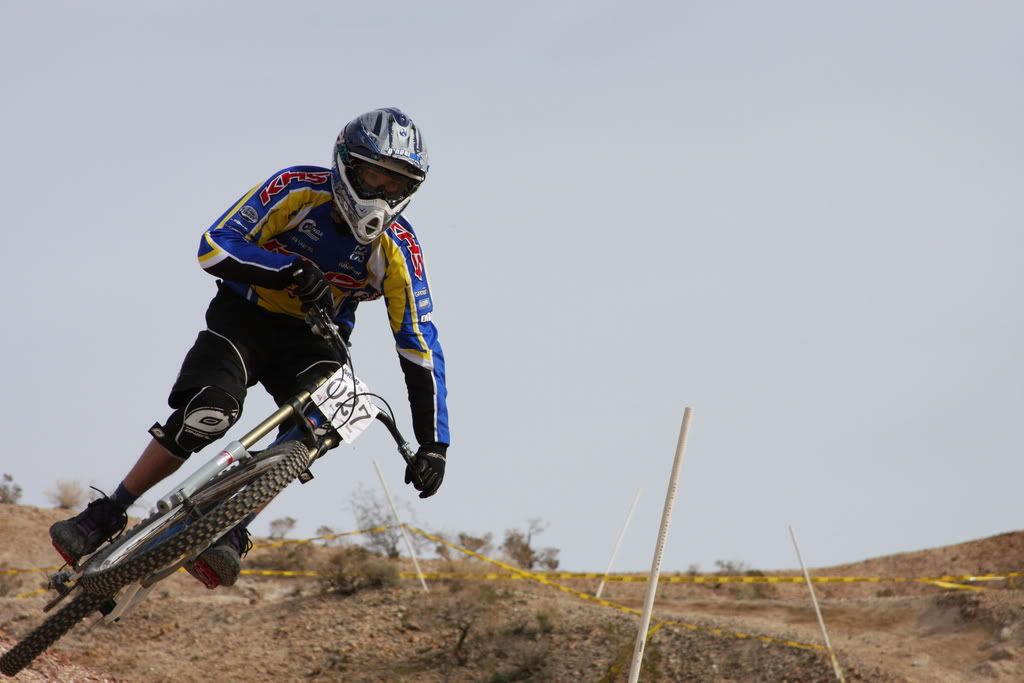 Latest addition to the KHS Factory squad and "Utah Native" Nash Ulmer put in a great effort. This is Ulmer's rookie season as a Pro, and he acquired a hard earned 14th place finish Sunday. Ulmer also participated in the Super D Saturday, and captured a 4th place podium finish! I look forward to some top results from Ulmer.
PRO SUPER-D TOP 10 RESULTS
The First Aid was always on hand to take care of any unfortunate injuries, Thanks for "Looking Out" for us guys!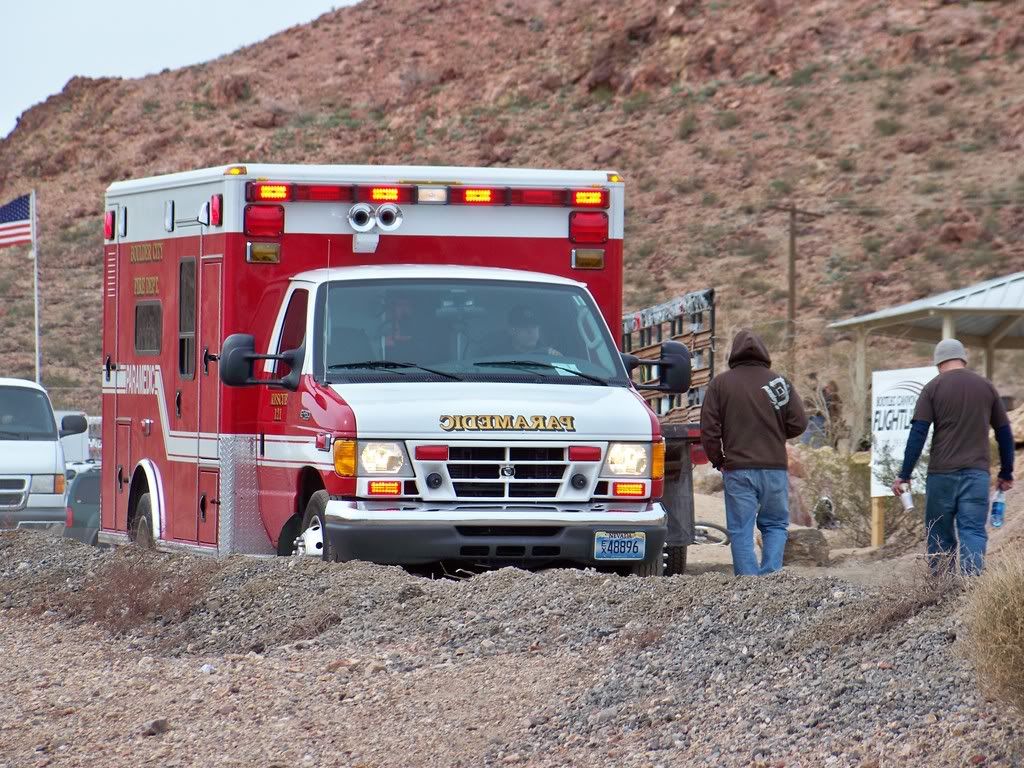 Injuries are however part of our sport, and part of all extreme sports. As athletes of Extreme Sports we really do know what we are getting into but always hope we will never be seriously hurt. This Ambulance was there to transport Mountain Bike Action Editor, Ryan Cleek to the Hospital. He suffered a broken Humerus (upper arm) at the finish line Sunday morning, but only after he had crossed the finish and won his race!

To show us all what a "Real Man" he is, he came back for his podium and first place medal, (putting his surgery on the "back burner")… mountain bikers are a breed of their own!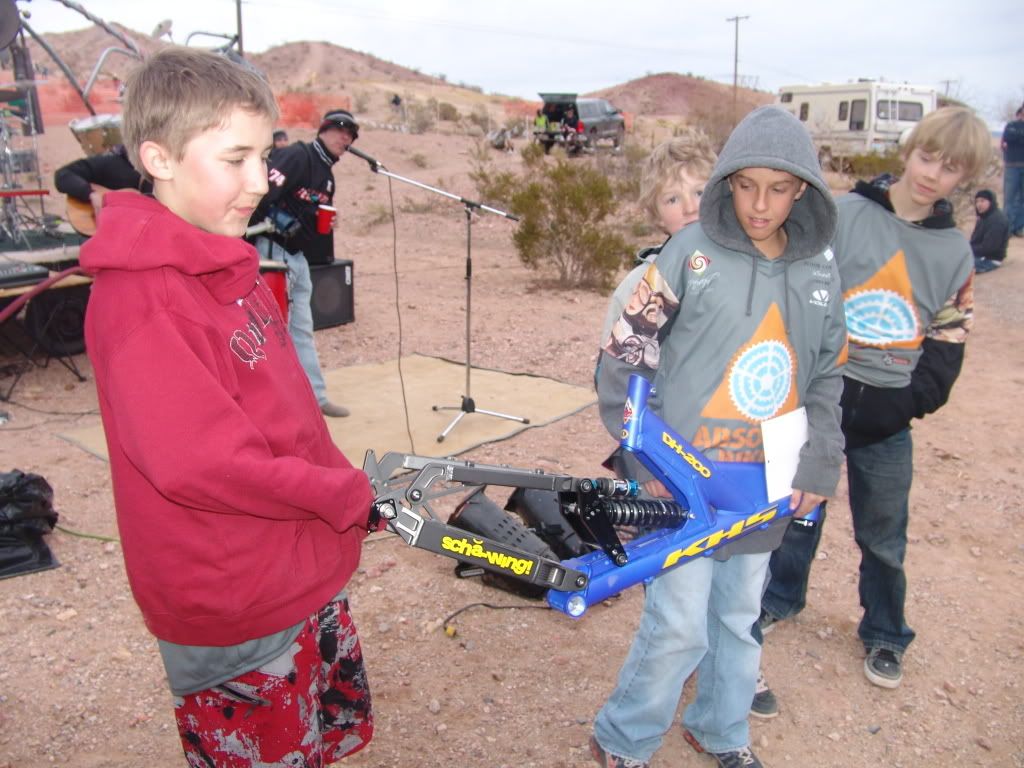 KHS Bicycles gave away a DH200 in the event raffle, and these kids were just itching to take it home!!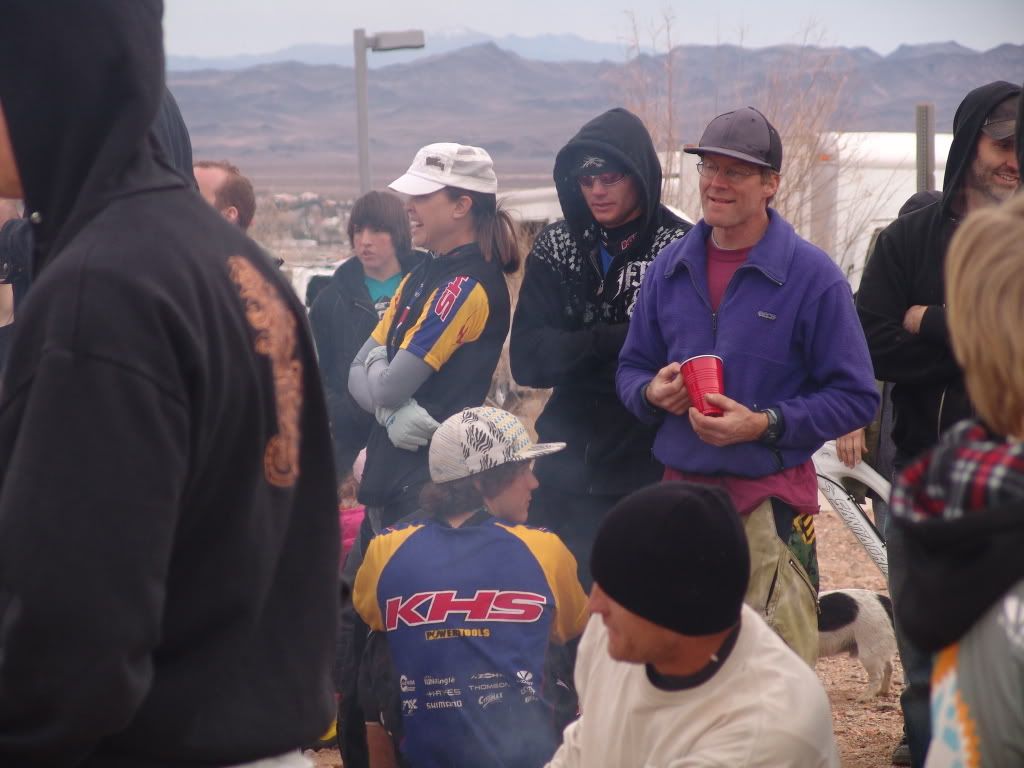 The after race celebrations were a lot of fun, very festive, and full of KHS jerseys. Every Mountain Bike Park across the land has their own bicycle brand that is pretty prominent, and we have worked hard to make KHS that brand at Bootleg Canyon.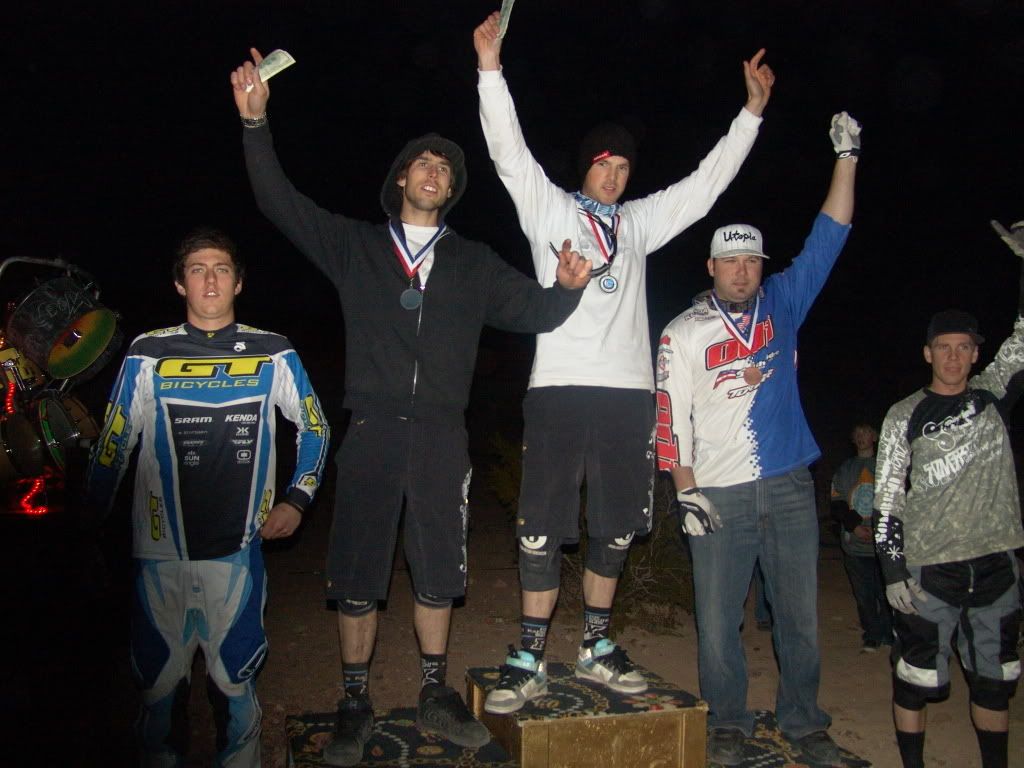 Pro DH Podium – Left to Right
Kevin Aiello (5th), Gee Atherton (2nd), Dan Atherton (1st), David KlassenVonOorschot (3rd) and Espen Johnsen (4th)
PRO DH TOP 50 RESULTS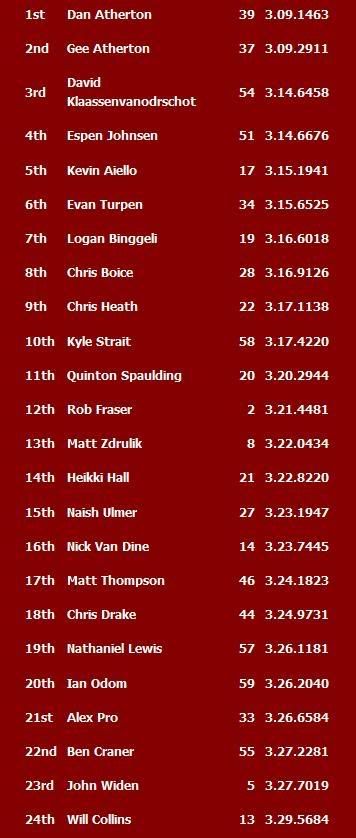 "KHS B-Team" rider Scott Johnson almost took the "hat-trick" (winning all three events) on the day, taking second in the Downhill.

"KHS B-Team" rider Oakley Erickson on the Junior X Podium!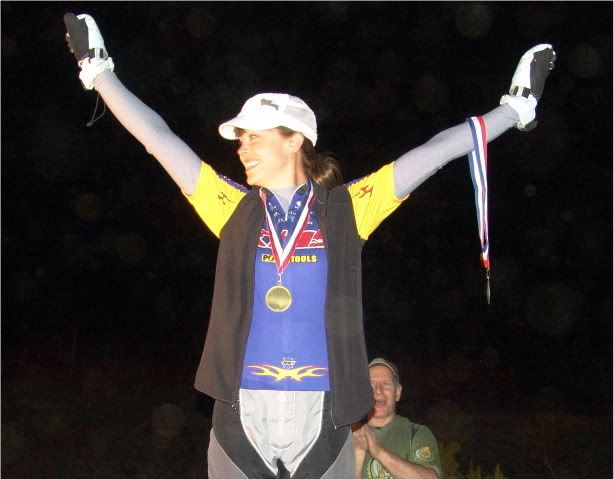 "KHS B-Team" rider Francine Johnson on the ladies podium a winner!!

Great Live music to finish out the evening, and a colorful display of lights to go along with it…Good Times!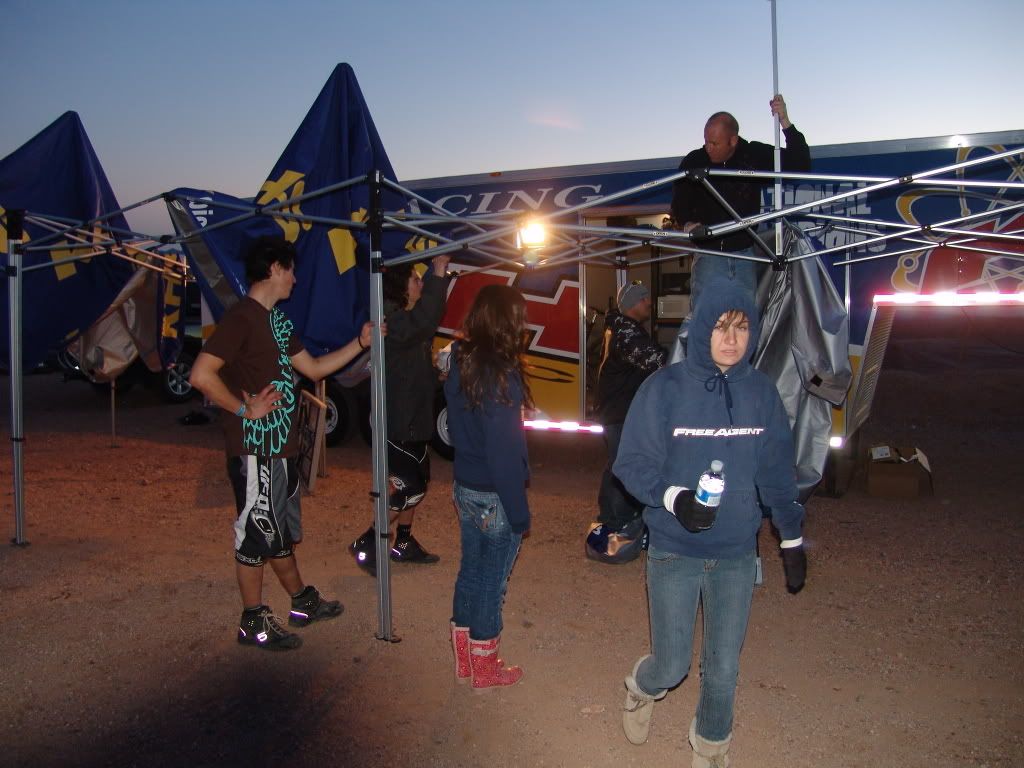 As always, there comes a time to "shut it down" pack it up, re-group and get ready for the next race. It is a long season and we strive to stay healthy and focused on the bigger picture, making sure we are in at the end when it matters the most. This event was very successful for KHS as a team, and a sponsor. We were all over the podium throughout the entire event schedule, and it was great!!

A "Very Big Thanks" to all our 2009 sponsors!


The KHS Team will be in Fontana, CA  Feb 21st and 22nd for round # 4 of the SHIMANO Winter Series.  So drop in and and say hi, maybe stop by and take a look at  the "Factory Race Bikes" we would like to meet you!

Please stay tuned for more updates and photos as they become available.

All the best!

Q.